When left to my own devices...
Apparently I go with greeny-blue-purple.

Evidence of 3 out of 5 last handspun yarns: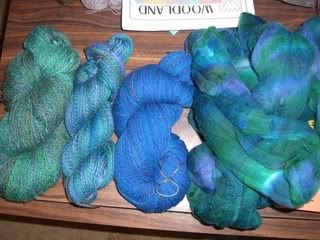 The Rambo batts from Sasha, the Mockking XXL, and the Targhee. And...the roving that made the other sockyarn (that I'm currently knitting socks from).

It seems that I've spun mostly natural colored yarn, or bluey-greens. I think this is why it makes me happy when I tell people to send me something of their own choice! Hence the red Mertush that Purrl sent me, and the new roving Laura sent me....

Not that there's anything wrong with bluey-greeny-purples, but one can have too much of the same color, right?

Realizing this made me want to start on that Fiery roving in a bad way....