Mertussah!
Merino (80%) and Tussah Silk (20%) blend from Louet. Given to me by the lovely Purrl/KitchenerBitch ! In the Garnet color. I loved this from the minute I laid my eyes and hands on it! So soft, so shiny, so red!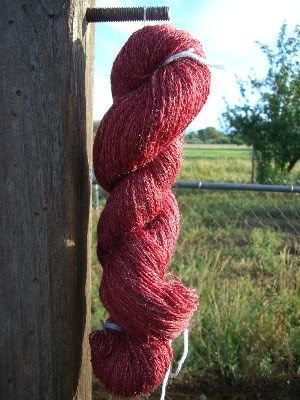 I spun a perfectly balanced skein too!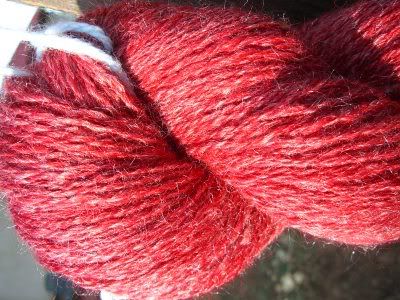 Easy to draft, a lovely fiber to spin...I see more wool-silk blends in my future!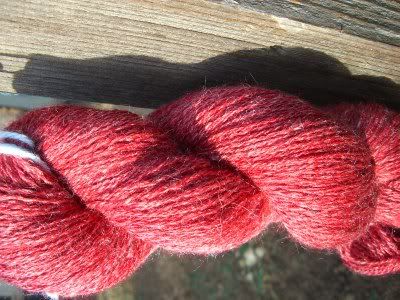 The color is best represented by the top and bottom photos in the series...





Specs:
3.14 oz of fiber (pre-spinning, and I didn't weigh it afterwards)
447 yds(!) of 2-ply
Definitely laceweight, though not as fine as some laceweight yarns I've used.

Destined to be...something lacey and small. Swallowtail shawl from the new IK? The Trellis scarf from the IK a few seasons ago? Something new?

I'll say it again. This fiber is a joy to spin! If you haven't tried the Mertussah, you're missing out. Get some for yourself, get some for your spinny SP, get some for your mom.

Oh! It came from this: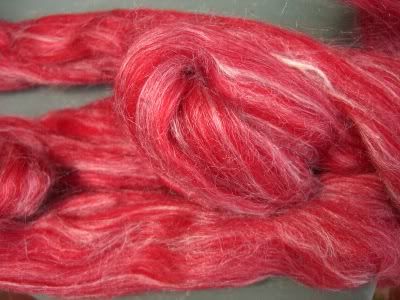 And it looked like this: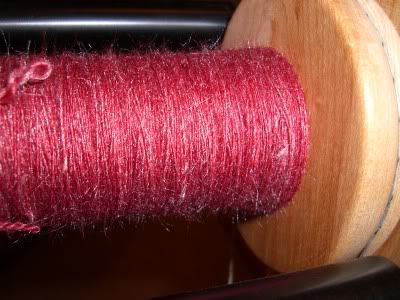 On the bobbin!

Oh...having blogger photo uploading issues this morning, so I uploaded through photobucket. Don't like the quality as much though. Bah.