Finally!
I can post!

I'm reallllllly hoping that I can get Beta blogger or something soon. I'm sick of faffing around with this.

So! Fluff from the Sasha!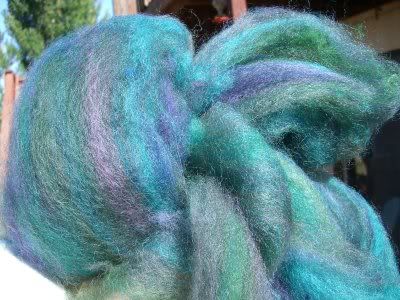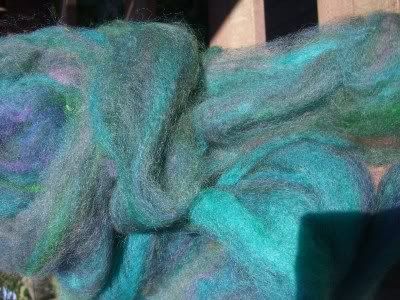 Three lovely green batts of Rambouillet fluff. Rainbow colors, mostly green. From Rowan Tree Woolery they came!

Along with a little bag of sample fluff too!



Samples of white and gray Rambouillet, pencil roving (gray Rambouillet), green and white silk, and pinky-cream silk. I enjoyed spinning these. I took each sample, spun about a yard or two, and moved on to the next. Then plied back on itself.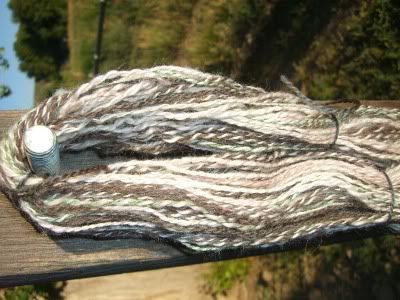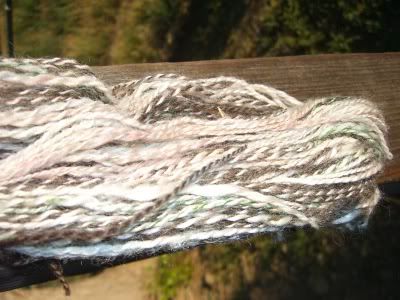 The sample yarn specs:
21 g/0.74 oz
62 m/68 yds
2-ply, DK-sport weight.

50% silk, 50% Rambouillet wool.

Enough maybe for some cool stripes in something? Nate likes this yarn. And I spun it thinking I might not like the end yarn. But I do!

Oh, and I couldn't resist:



I started spinning the batts too. Not super easy to draft. But, super fast! And, I really like the nepps and noils left in. This isn't a smooth, even yarn. But we must listen to the fiber. To what it wants to be. And so I let it be neppy and noily, and I like it. (Even though mostly I try for even yarn...I can let that go in pursuit of happy fiber).