A gift of yarn.
My friend's neighbor gave me her entire yarn stash. Oh my. I won the yarn lottery! Hit the fibre jackpot! It was four big bags of yarn. They filled my entire trunk! I was sitting at work yesterday, knowing I had four bags of mystery yarn in the car. It was torture. I had glimpsed only a few skeins, and seen labels of Rowan and Alice Starmore and was dizzy with anticipation of what might lie within these bags.

So I went home. And dumped them out in my guest room (now to be referred to as "my own personal yarn shop"). I was amazed, not only had I been given an entire stash, but I had been given a yarn snob's stash.

As I sorted skeins out it started to really look good: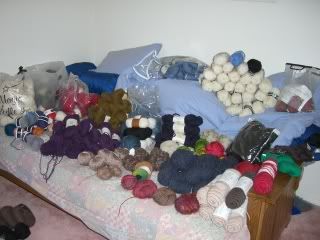 The white skeins up on top are about 30 skeins of Peer Gynt natural worsted wool (perfect for dying methinks).

To the left of these is a bag of blue Bainin Aran Alice Starmore wool. 18 skeins. Enough to make Aranmor from Aran Knitting.

The purple and amber colored yarn are skeins of Starmore Scottish Heather.

The blue up front is a bulky weight wool tweed. 7 four oz skeins. This is unlabeled, but it feels a lot like some of the Starmore yarns.

The two bags on the far left, one holds 17 skeins of Scottish Heather in a gray, the other a bulky cream colored Finnish wool, enough for a sweater.

The bag of red yarn is 5 skeins of Alice Starmore Scottish Fleet Gansey yarn.

There is so much, I'll so you a few closeups:




The pile of Jo Sharp worsted wool. At first I thought it was DK, but it is worsted. 25 or so balls, in various shades. Perfect for Fair Isle!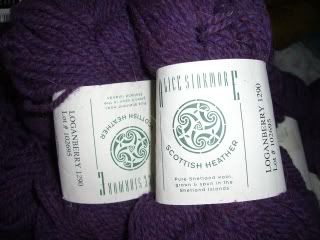 The Scottish Heather in that gorgeous purple I love.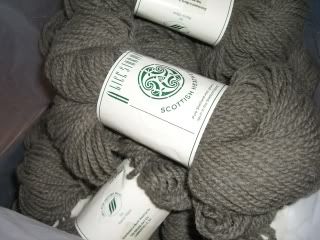 And in the gray that is destined to become one of the Starmore Aran sweaters for Nate.




And, the bag of Rowan wool and cotton. 15 balls of this, DK/sport weight, I'll have to come up with a plan for it! So soft.

Nate said last night, "It's like Christmas when you're a kid!" He was excited too, and amazed. Thank-you yarn benefactor wherever you are. You have no idea how wonderful this is! (Or maybe you do...it was after all, your stash).