Knitting for Breakfast?
Progress pics of the Hoodie for the Knittin' Olympics:
Le close-up of de stripe: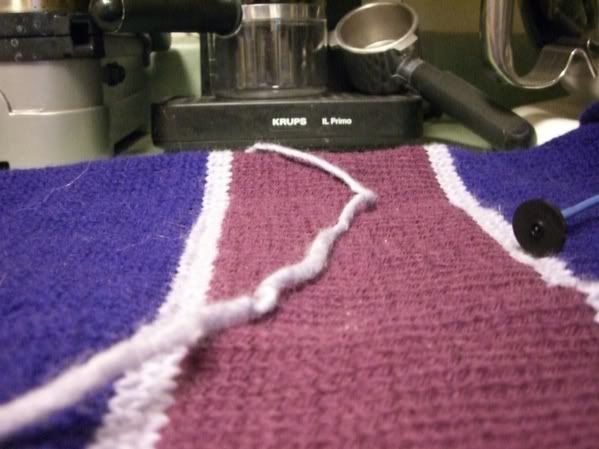 Le fronte, ala pocket: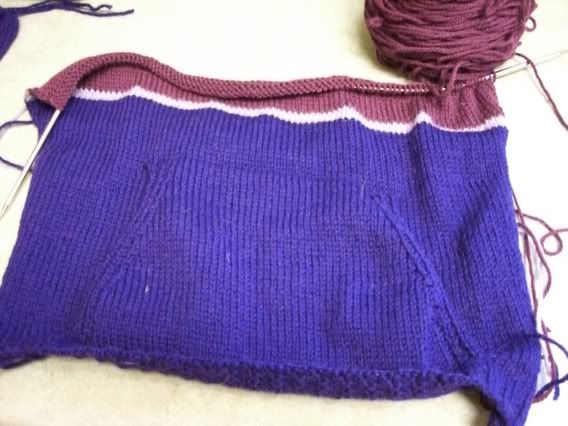 Le fronte plus le back:


So, this is how much knitting I've done since last Friday night, a little less than a week. Not bad, but I'm thinking I picked a good project, it will be a challenge for me to finish by the end of the Olympics. Little things like, eating, working, house cleaning, laundry, skiing, pet caretaking, and volunteering seem to cut into knitting time. Last night, I only knitted 2 rows.

I really like the colors I have, the main body color is KnitPicks Wool of the Andes in Hyacinth, the light stripe is a ball of light lavendar Lambs Pride, and the dark stripe is Cascade 220 in Eggplant. They really mix well.

Finishing the pocket made me happy, I've never made a pocket before!

This weekend we're headed to Crested Butte to ski, we're either leaving tonight or tomorrow pending the weather. There is a winter storm watch in the area, and it usually isn't a great idea to drive over 10,000 ft passes in snow!

Since this is my first 'adult' sweater, I'm wondering how long it will take me to do the finishing on it? The seaming, weaving in ends etc. Any guestimates?