Hanspun Voodoo [wristwarmers]
These were made with from the Knitty pattern 'Voodoo armwarmers' with the lupine handspun yarn that I blogged about not too long ago. I really like them! Wore them yesterday in the field, and the were great! I plan on using them when I ski, to prevent the glove-jacket wrist gap problem. I'll let you know how that goes!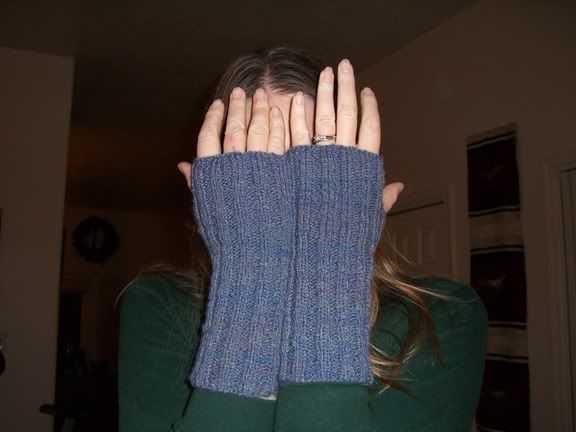 I swatched for the Knitting Olympics, with the Wool of the Andes for Under the Hoodie. Got gauge the first time! On size 8 circs. which just happen to be my only Addi's, which I was hoping to use! yay!

Skied Sunday....it rocked. Tele mogul clinic. With 4 little boys, and one dude who couldn't ski. It was fun, weird, and instructive all at the same time!

No snow forcast again. Friggin high pressure and lame La Nina. Go away, we want snow!