A time for knitting, a time for skiing.
Ever wondered why this blog is part of the skiing ring, and why I wax poetic (and my skis) about telemark skiing, but don't talk much about it? Or show pics? One reason why. This is the worst snow year in NM in as long as we know! No powder days. No fun little BC tours. Only skiing mostly man-made snow at Purgatory and once at Wolf Creek. We still haven't made it to Taos, or Telluride this year. If the snow picks up, the skiing will too. I assure you!

So, my friends, this is a time for not so much skiing, and more so for knitting. Because with the 4.5 inches of snow we had last week, the bike trails now suck too, so no biking.

Just dog walking/hiking. And knitting. And spinning...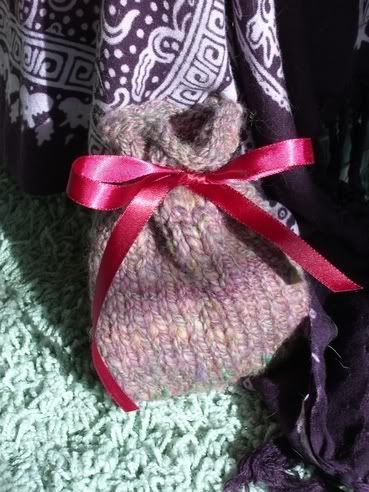 A little knitted bag. Knitted with some of my first handspun yarn, I knitted little YO eyelets into the top portion of the bag, threaded a ribbon through, popped a nice Passionfruit soap into the bag, and gave it to a friend as a gift.

In my quest for more color accuracy, I give you two photos. Both are the correct color, which one works better as an overall shot of the bag? Top (aka in sunlight) or bottom (in diffused sunlight)?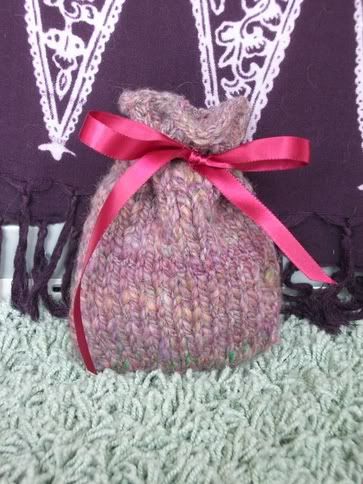 Heh heh, my quest to finish the WIPs is working. I am to the part of the front of my tank girl now where I can do the armhole decreases. One more almost down!