Spun like I've never spun before!
Well! I can spin singles that look as good as I'd want them to look! Check it out: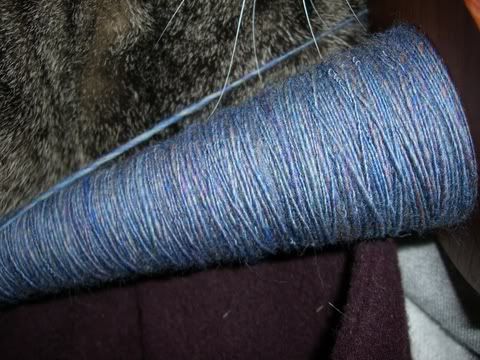 This is approximately 2 ounces of the Ashland Bay 'Delphinium' Colorway Merino top spun up into, what I must say, is a gorgeous single! The single looks to be sport weight.
And again with the pretty yarn (and a little vino for spinning happiness):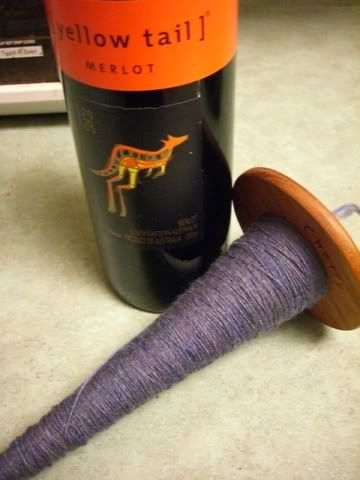 Now the yarn and the cat: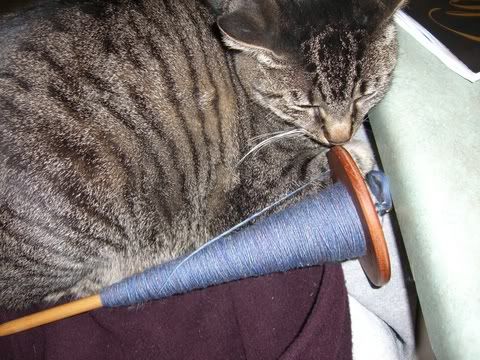 Lucy sniffs the yarn, I think I woke her up so she could be a model. Because who wouldn't want to be woken up to be a model?
Notice the color differences between the photos. The top and the bottom photos were taken with flash, and the middle without. In reality, the yarn is a blend of colors between these two extremes. Of course, I always wait til after dark to take yarn-y photos, so no natural light is possible.

I started spinning this wool on Sunday, then did some Monday, and finished the 2 oz. last night. I'm guessing about 7-8 hours of spinning to get half of the 4 oz of top all spun up. I still have to spin the other half, then ply, then soak. I guess it is a time consuming process, but I enjoy it.

I knitted a little on the baby blankie last night too. Only 2 pattern repeats left in the last 1/4 of the blanket! Almost. Almost.