A little more about me...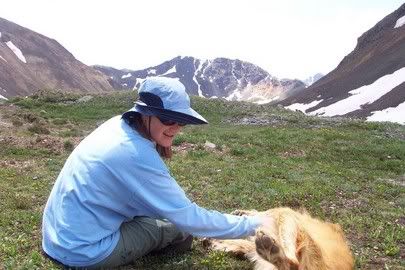 I love to telemark ski!

It is my most obsessive hobby...that and knitting, hence the name 'teleknitter'.

Skied up high at 13,000 ft on July 17th!

The photo above is where we skied...and our cute doggie Wilco (also a favorite band).

I'm married, no kids, gonna turn 30 this year, and have one Golden Retriever and 4 cats!

Love gardening, try all organic, and love frest tomatoes more than anything else I could grow.

As I wait for more snow to fall, so I can tele again, I knit, I work, I knit, I garden, I knit, I buy yarn, I clean the house, I play with kittens, I knit.

hmmmm...more later. Now I need to figure out this button thingy for knitty SP5!